Ziror Blooming Bath Lotus Flower Pad
$49.99
Regular price
$99.99
We designed this wonderful baby bathtime flower for warm and cozy baths and beautiful photographic memories. You won't be disappointed!
🌼 A STEP ABOVE THE REST
The top layer of our blooming baby bath pillow is made of pure Organic Bamboo and Cotton material. This heavenly soft, all-natural cover is great for the sensitive skin of your newborn baby. Not only that, it is durable and less damaging to the environment.
🌼 GROW WITH YOU
Soften any bathroom, kitchen or farmhouse sink and even plastic bathers. As your toddler transitions to the big bathtub, feel secure knowing our suction cup design won't allow it to slip and slide in the tub during their wiggly playtime. Previous designs recommend use for six months, while our baby bath seat can be used for two years plus.
🌼 MAKE TRAVEL EASIER
Give your baby a familiar bathing experience and make travel more comfortable. Your infant will love that grandma's sink is familiar and safe, just like at home. When traveling to hotels have peace of mind knowing your infant is bathing on a clean and sanitary surface.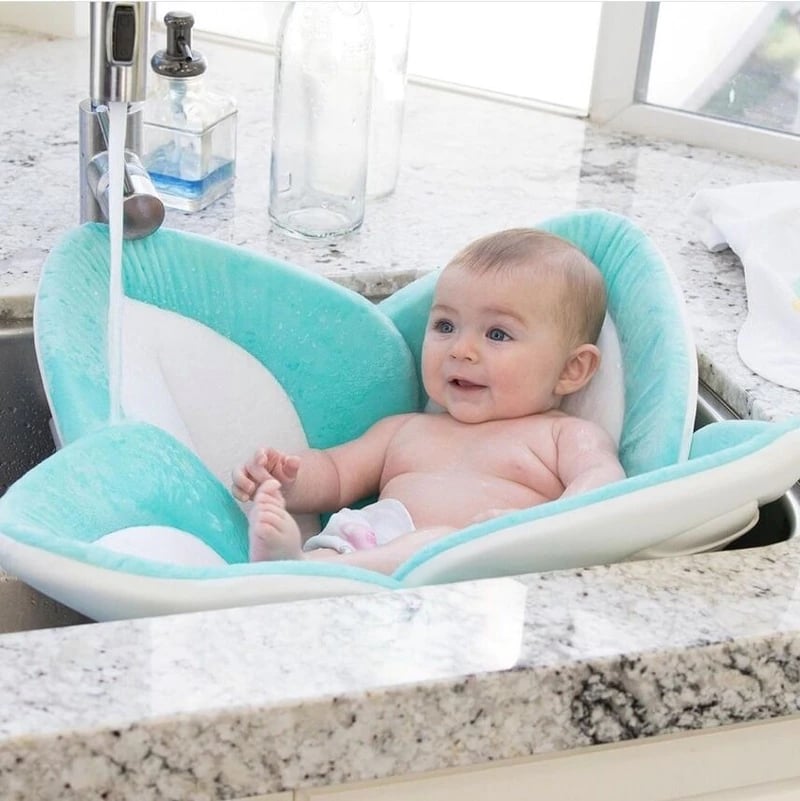 🌼 EASY TO USE & CLEAN
Simply, insert the flower pad in your bath or kitchen sink. Add warm water and bathe your baby. Once finished wring out the excess water. Easily hang dry daily in the shower by the suction hook, shower head or shower rod by the loop on the back. Its fast drying so it won't mildew. Wash & dry on delicate cycle when needed.
100% Polyester
Imported
The BEST way to give your baby a bath
A great alternative to traditional baby bathtubs
Super soft and cuddly to keep baby happy and comfortable during bath time
Four petal design fits sinks optimally